Be sure to check the blog frequently because I will be sharing with you all my latest discoveries – things that I love and things that make my life easier.
My latest find is a little gadget I bought for 97 cents and I use it every single day. It's a nylon ergonomic scraper. I use it to scrape dishes, pots and pans, the bottom of the oven (so I don't have to run the self-clean too often) and anything else that needs some coaxing. Since I love to cook, bake and do crafts, I always have use for this scraper.
I love this little thing so much that I've bought about 10 of them to give to my kids and close friends. I got mine at Wal-Mart – and don't know if it's available anywhere else. Pick it up in the kitchenware department. It's in a clear plastic cylindrical bin and comes in different colors.
Here's a picture: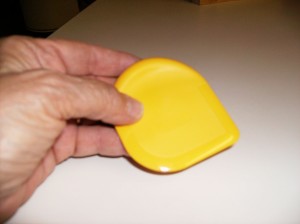 How can a person get so excited about a 97 cent gadget? Just try it and you'll see what I mean!